The Adolescent Girls Initiative for Learning and Empowerment, (AGILE) Project is a World Bank assisted project of the Federal Ministry of Education geared at improving secondary education opportunities for adolescent girls aged between 10 and 20.
Adolescent girls in Nigeria are generally faced with challenges that prevent them from accessing and completing secondary education due to socio-cultural, financial constraints, and infrastructural deficits.
The AGILE Project is meant to improve secondary education opportunities in the implementing states by tackling these challenges, thus making education more appealing to adolescent girls, parents, communities, and institutions.
IMPLEMENTING STATES
The current implementing states are: Borno, Ekiti, Kaduna, Kano, Katsina, Kebbi, and Plateau
The states were selected through a consultative process involving the Federal Ministry of Education, Federal Ministry of Finance, Budget, and National Planning, State Governors, and State Ministries of Education. The selection criteria among others, included the number of out of school Girls, secondary school transition rates, the existence of enabling policies on Girls education as well as the States' engagement and commitment to improving Girls' educational attainment and empowerment.
AGILE Project
Components
The AGILE Project consists of three main components:
Component 1: Creating Safe and Accessible Learning Spaces
Component 2: Fostering an Enabling Environment for Girls
Component 3: Project Management and System Strengthening
Creating safe and accessible learning spaces
This component is meant to address the supply side constraints to girls' education. Specially, it supports:
Sub-component 1.1: the construction of new classrooms(climate-smart infrastructure) to expand existing Primary and Junior Secondary Schools, (JSS) to include JSS and Senior Secondary Schools,(SSS) respectively; and
Sub-component 1.2: the rehabilitation of dilapidated classrooms/facilities as well as the provision of Teaching and Learning Materials, (TLMs) to make schools functional, safe, inclusive, and more conducive to teaching and learning.
Fostering an enabling environment for girls
This component's essence is to galvanize support for girls' education and empowerment among families, communities, and schools by addressing demand side side constraints to girls' participation in education.
It comprises different sub-components:
Sub-component 2.1: Promoting social and behavioural change through communications, engagement with traditional rulers, and advocacy.

The objective of this component is to promote a shift in social and cultural norms and perceptions which act as barriers to girls' schooling through communication campaigns and advocacy to promote girls education and empowerment.

This subcomponent seeks to address the cultural, social and religious norms that impeded girls' access to education as well as emphasize the need to provide a safe and inclusive learning environment for all children and state level awareness campaigns to promote social acceptance.

The purpose of subcomponent 2.1 is to promote a shift in socio-cultural norms, and religious beliefs that act as barriers to girl-child education. It hopes to change the narrative through various communication and Behavioural Change Communication campaigns and advocacies at the National and state levels.

The planned strategic communication campaigns will also promote the importance of the need for a safe, enabling, and inclusive learning environment, including prevention and mitigation of Gender Based Violence, (GBV)/ Sexual Exploitation Acts (SEA), and ensuring a specific focus on the inclusion of learners living with disabilities.

It has three main activities:

Communications campaign at the National level
State-level community engagement and communications/awareness campaigns
National and State level engagement, advocacy and sensitization

Sub-component 2.2: Empowering girls with critical life skills knowledge for navigating adulthood and digital literacy skills. The objective of this component is to empower girls with different skill sets which will be useful as they transit to adulthood.

This sub-component has two main activities namely:

2.2 A Life skills Training: A "Safe Spaces" approach will be used to deliver life skills training in schools. Trainings will also incorporate non-discrimination sensitization focused on marginalized groups, such as girls with disabilities.
2.2 B- Digital Literacy training and Remote Learning Platform: The objective of this subcomponent is to support the provision of basic digital literacy training and to establish a remote learning platform for secondary school students.

Subcomponent 2.3: Providing financial incentives to the poorest households The objective of this subcomponent is to address demand side financial barriers to girls' entry to, and completion of secondary school.
This subcomponent will provide support to alleviate the financial burden households face in sending their girls to school through scholarship, and financially incentivize girls' transition to Junior Secondary School, (JSS) and Senior Secondary School, (SSS) as well as their attendance, and completion of secondary school.
Project management and system strengthening
This component aims to support institutional capacity building at the Federal, State and Local levels to manage, implement, and provide oversight for the proposed project. It also aims to build on and contribute to the evidence-base on effective sustainable approaches to promoting girls' education while also building capacity to carry out these activities, and others which support girls' education and empowerment.
This component has its subcomponents:
Subcomponent 3.1 - System Strengthening for sustainability and TA This sub-component supports efforts to strengthen the institutional capacity of Federal and State governments to support girls' education and empowerment.
The Project Development Objective (PDO) is to improve secondary education opportunities among girls in the participating states by addressing the specific socio-cultural/religious norms and other constraints that hinder parents/guardians from allowing their female children/wards from accessing and completing secondary education.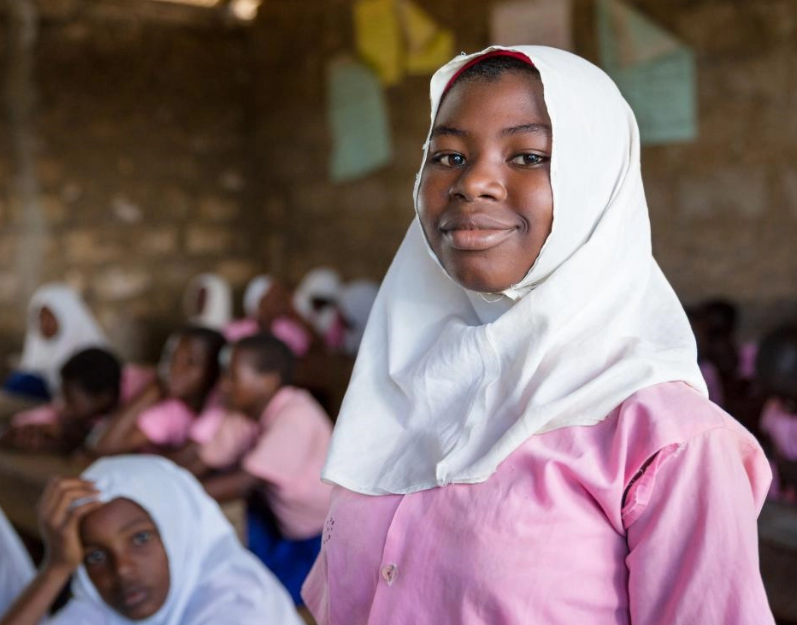 AGILE Project
Target Beneficiaries
A
The AGILE Project targeted beneficiaries are adolescent girls between the ages of 10 and 19 in AGILE implementation.
B
Adolescent girls in Nigeria are generally faced with peculiar challenges which either exclude them from education or prevent them from completing secondary education amongst other things. These challenges include Gender-based Violence (GBV), Female Genital Mutilation (FGM), Rape/Early Marriage, Cost of schooling etc.